Product Description
Rubber Spider Coupling Characteristic: 
1. Performance Shock Absorber
2. Low Compression Deformation
3. Corrosion Resistance
4. Oil Resistance
5. High Pressure Resistance
6. Wear Resistance
Rubber Material Compare
E – Excellent          G – Good          F – Fair          P – Poor          
Material Properties
Property
NBR
 EPDM
CR
Silicone
FKM
NR
SBR
PU
HNBR
FVMQ
IIR
Abrasion Resistance
G
G
G
P
G
E
E
E
G
P
G
Acid Resistance
F
G
F
F
E
F
F
P
E
F
G
Chemical Resistance
F
E
F
G
E
F
F
F
G
E
E
Cold Resistance
G
G
F
E
P
G
G
G
G
G
G
Compression Set Resistance
G
G
F
G
E
G
G
F
G
G
F
Dynamic Properties
G
G
F
P
G
E
E
E
G
P
F
Electrical Properties
F
G
F
E
F
G
G
F
F
E
G
Elongation
G
G
G
F
F
F
F
F
G
F
G
Flame Resistance
P
P
G
F
E
P
P
P
P
G
P
Heat Resistance
G
G
G
E
E
F
F
F
E
E
G
Impermeability
G
G
G
P
G
F
F
G
G
P
E
Oil Resistance
E
P
F
F
E
P
P
G
E
G
P
Ozone Resistance
P
E
G
E
E
P
P
E
G
E
G
Tear Resistance
F
G
F
P
F
G
G
G
F
P
G
Tensile Strength
G
G
G
P
G
E
E
E
E
F
G
Water Resistance
G
E
F
G
F
G
G
P
E
F
G
Weather Resistance
F
E
E
E
E
F
F
E
G
E
G
Why Us:
We have a fully-equipped workshop that meets ISO 9001:2015 and IATF 16949:2016 requirements. All products are compliant
with FDA, WRAS, UL, RoHS and REACH standards, and meet DIN, JIS and ASTM regulations. Material report and dimension
checking report are available.
1. Quality Approvals. More than 15 years professional manufacture experience.
2. Experienced Staff and Service. Professional R&D team, production team, sales team, after-sales service team.
3. Product Performance and affordable cost. Superior performance with most competitive price.
4. Prompt Delivery. Faster delivery time. 
5. Small Orders Accepted.
 
Material
Rubber Metal Bonded, NR Rubber, SBR Rubber, Carbon Steel, Stailess Steel
Material Report
FDA, ROHS, UL, WRAS and REACH
Dimension
Standard Sizes or As per customers' Requirement
Certifications
ISO9001,IATF16949,ISO14001
Color
Any colors according to PANTONE or RAL
Surface Finish
Texture (VDI/MT standard, or made to client's sample), polished (high polish, mirror polish), smooth, painting, powder coating, printing, electroplating etc.
Service
Custom Made or OEM and ODM
Free Samples
Okay
Production Ways
CAD Drawing, 3D Files or Samples
Production Capacity
200T,300T and 500T Compressing Molding, Injection Molding, Auto Vacuum Vulcanizing, Plastic Injection, and Extrusion
Supplying Capacity
One Million Pieces/ Month
Tolerance
Generally±0.05mm or Better
QC
PPAP, In House Control, Third Party Inspection Institution such SGS, TUV
Lead Time
15 Days for Molding, 15-20 Days for Series Production
Application
Industry Machinery,Automotive,Mechanical Equipment, Construction, House Application,
Medical Machine
More Parts

Grommet, sleeve, feet, gasket, wheel, bellow, cap, dust cover, pad, washer, 

Strip, plug, stopper, grip, seal, bushing, bumper, blocks, and anti vibration mounts etc.
Supplying Standard and Customized Rubber & Plastic Parts
Established in 2004, Xihu (West Lake) Dis. Rubber is specialized in providing quality customized rubber molding,
extrusion parts, plastic injection products and some standard parts.
Meeting Various Standards
We have a fully-equipped workshop that meets ISO 9001:2015 and IATF 16949:2016 requirements.
Our products are compliant with FDA, WRAS, UL, RoHS and REACH standards, and meet DIN, JIS
, BS and ASTM regulations.
Parts include, but are not limited to:
Grommet, sleeve, feet, gasket, wheel, bellow, cap, dust cover, pad, washer, Strip, plug, stopper, grip,
seal, bushing, bumper, blocks, and anti vibration mounts etc.
FAQ
1. What types of rubber do you use?
Xihu (West Lake) Dis. Rubber has extensive experience in a vast range of rubber, including: Natural Rubber, SBR, CR, NBR, HNBR,
EPDM, Silicone Rubber, FPM, ACM, FK etc.
2. What types of plastic do you use?
Xihu (West Lake) Dis. Rubber has extensive experience in a vast range of plastics, including: ABS, Polypropylene (PP), PVC, POM,
PE, PEEK, Polyamide (PA) Nylons, PBT, etc.
3. What services do you provide?
We offer a broad range of services, including, Custom Rubber Molding, Liquid Injection Molding, Rubber Extrusion, and
Rubber/Plastic to Metal Bonded Parts.
4. Why us?
4.1 More than 15 years professional manufacture experience.
4.2 Professional R&D team, production team, sales team, after-sales service team.
4.3 Superior performance with most competitive price.
4.4 Faster delivery time.
5. Perfect quality control process
5.1 Raw material inspection 
      All raw materials before warehousing must be tested, and the corresponding physical property report shall be issued,
and compared with the physical property report of raw materials. Only when the test values of the 2 physical property
reports are consistent, can they be warehoused.
5.2 Mold inspection
      After mold development or cleaning, we will check the full size of the mold to ensure that the quality of each cavity is
the same.
5.3 Product inspection
      In the process of product production, inspectors regularly inspect the semi-finished products to ensure the rationality
of the process and control the defective rate within a reasonable range.
5.4 Finished product inspection
      The double inspection can ensure that the product appearance and size are 100% qualified.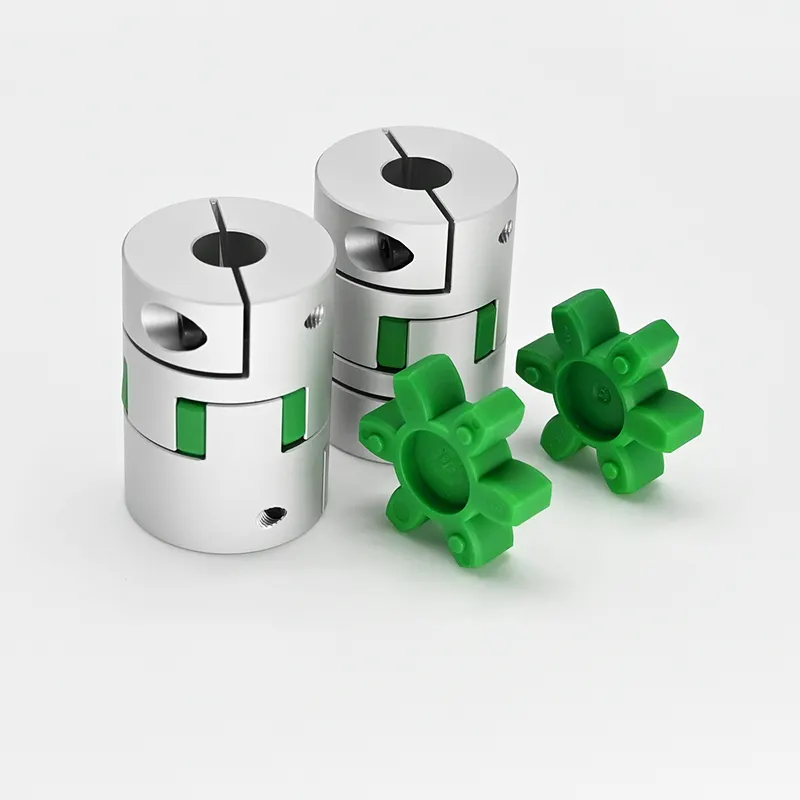 Contribution of Jaw Coupling to Equipment Longevity
Jaw couplings play a vital role in enhancing the longevity and reliability of connected equipment in mechanical power transmission systems. The design and features of jaw couplings contribute to minimizing wear, reducing downtime, and protecting the equipment from harmful forces. Here's how jaw couplings contribute to equipment longevity:
Shock Absorption: Jaw couplings have elastomeric spider inserts that act as shock absorbers, dampening vibrations and impact loads. This helps in protecting the connected equipment from sudden shocks and extends its operational life.
Misalignment Compensation: In real-world applications, shaft misalignment is common due to thermal expansion, machine settling, or manufacturing tolerances. Jaw couplings can tolerate a certain degree of misalignment, reducing stress on bearings, seals, and other components of the equipment.
Overload Protection: During overloads or torque spikes, jaw couplings can flex slightly, absorbing excess torque and preventing damage to the equipment. This overload protection feature prevents catastrophic failures and extends the life of mechanical components.
Backlash Reduction: Excessive backlash in a power transmission system can lead to inaccuracies in motion control and wear on components. Jaw couplings are designed to provide low backlash, enhancing precision and minimizing wear on gears and other sensitive parts.
Resilience to Contaminants: Jaw couplings often feature enclosed designs that protect the elastomeric spider from contaminants like dust, dirt, and moisture. This helps in maintaining the coupling's performance and preventing premature failure due to external elements.
Low Maintenance: Compared to some other types of couplings, jaw couplings require minimal maintenance. Regular lubrication and inspection of the coupling can significantly extend its life and keep the connected equipment running smoothly.
Easy Installation: The simple and compact design of jaw couplings makes them easy to install and integrate into various mechanical systems. Proper installation ensures efficient power transmission and reduces the chances of component damage.
Overall, jaw couplings contribute to equipment longevity by providing protection against shock loads, compensating for misalignment, preventing overloads, reducing backlash, and offering resilience to environmental factors. By selecting the right jaw coupling for the application and following proper maintenance practices, users can maximize the lifespan of connected equipment and improve the overall efficiency of their mechanical systems.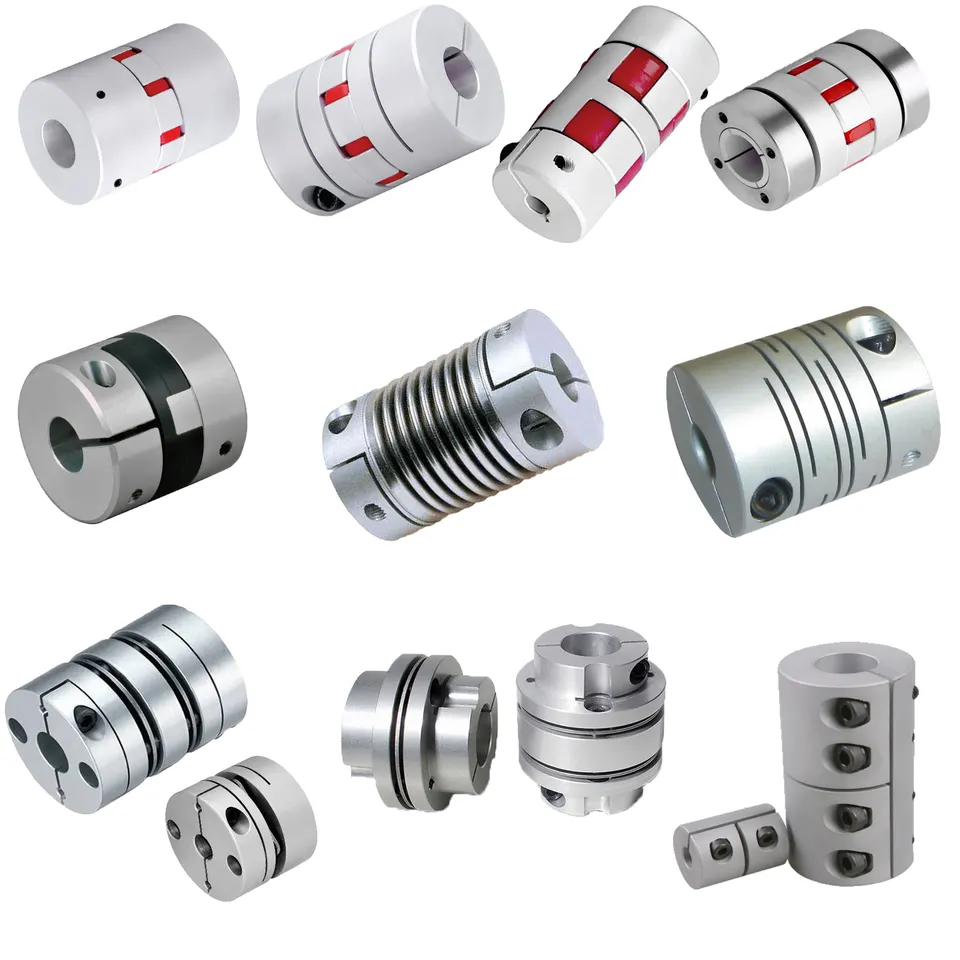 What are the common signs of wear and failure in jaw couplings?
Jaw couplings are reliable components, but like any mechanical part, they can experience wear and eventually fail if not properly maintained or replaced when necessary. Here are some common signs of wear and failure to look out for in jaw couplings:
Excessive Vibration: Increased vibration during operation may indicate wear in the elastomer spider or misalignment between the coupling hubs. Excessive vibration can lead to further damage and should be addressed promptly to prevent more significant issues.
Abnormal Noise: Unusual noises, such as rattling, clanking, or squeaking sounds, can indicate wear, misalignment, or damage in the jaw coupling. A well-functioning jaw coupling should operate smoothly and quietly.
Visible Cracks or Damage: Inspect the jaw coupling regularly for any visible cracks, tears, or damage to the elastomer spider or coupling hubs. Cracks in the elastomer can lead to reduced torque transmission and compromise the coupling's performance.
Loose or Displaced Spider: A loose or displaced elastomer spider may result from wear or improper installation. The spider should fit securely between the coupling hubs. Any sign of misalignment or gaps in the spider indicates potential wear or failure.
Increased Heat: Excessive heat generation in the jaw coupling could indicate high levels of friction or misalignment, leading to wear on the elastomer spider. Elevated temperatures can accelerate wear and shorten the coupling's lifespan.
Shaft Misalignment: If you notice misalignment between the connected shafts, it can be a sign that the jaw coupling is no longer compensating for misalignment properly. This can lead to increased stress on the shafts and coupling components.
Reduced Performance: A jaw coupling nearing the end of its service life may experience reduced torque transmission and compromised rotational speed control. As the elastomer spider wears, the coupling's ability to transmit torque efficiently diminishes.
Unexpected Downtime: Frequent unexpected shutdowns or downtime may indicate coupling failure. Sudden coupling failure can lead to costly equipment damage and unplanned production halts.
It is essential to conduct regular maintenance and inspections to detect these signs of wear and failure early. Preventive measures such as proper lubrication, alignment checks, and timely replacement of worn elastomer spiders can extend the life of the jaw coupling and prevent unexpected failures.
If any of these signs are observed, it is advisable to consult coupling manufacturers or maintenance professionals for a thorough assessment and appropriate corrective actions.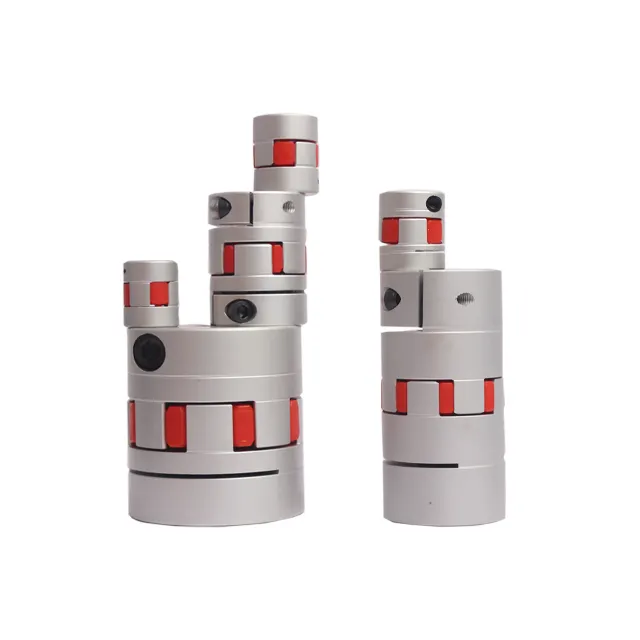 Maintenance Requirements for Jaw Couplings
Jaw couplings are relatively low-maintenance components, but regular inspections and preventive measures can help ensure their optimal performance and longevity. Here are the maintenance requirements for jaw couplings:
Visual Inspections: Regularly inspect the jaw coupling for signs of wear, damage, or misalignment. Look for cracks, chips, or deformation in the elastomeric spider, hubs, and other components.
Lubrication: Some jaw couplings require periodic lubrication of the elastomeric spider to prevent dry rot and ensure flexibility. Refer to the manufacturer's guidelines for the appropriate lubrication schedule and type.
Tighten Fasteners: Check and tighten all fasteners, including set screws, regularly to prevent coupling slippage and maintain a secure connection between the shafts and hubs.
Alignment: Ensure that the shafts connected by the jaw coupling are properly aligned. Excessive misalignment can lead to premature wear and failure of the elastomeric spider.
Replace Worn Parts: If any component of the jaw coupling shows signs of wear beyond acceptable limits, promptly replace it to avoid further damage and potential system failure.
Operating Conditions: Monitor the operating conditions of the machinery to prevent overheating or overloading, which can affect the performance and life of the coupling.
Following these maintenance practices can extend the life of the jaw coupling, reduce the risk of unexpected failures, and contribute to the overall reliability of the mechanical system.



editor by CX 2023-11-07