Product Description
Product Description
HRC Flexible rubber camlock shaft coupling 
· Installation is quick and easy without special tools required, only a hexagonal wrench is needed
· Maintenance is virtually eliminated without lubrication required
· The electro metric element allows HRC to be suitable for use in most conditions
· In the unlikely event of the flexible element being destroyed, drive will be maintained by inner action of the integrally cast driving dogs
 
Useful
Mainly used in the mining, metallurgical, cement, chemicals, construction, building materials, electric power, telecommunications, textiles, and transportation departments.
Such as: 
Conveyor: Belt conveyor.AFC conveyor.Chain conveyor.Screw conveyor.
Pump: Water pump, oil pump, slush pump,etc
Fan: Draft fan,,fanner, boiler fan,etc
Excavator: Bucket excavator. Bucket wheel excavators.Bucket wheel stacker reclaimer.
Crane: Tower crane.Gantry crane.Bridge crane.
Others: Various elevators.Coal plough.Ball mill.Crusher.Recreation machine.Blender
equipment.Centrifuger.Washer.Leather-making machine.machine for recreation park
mixer wire drawing machine.Extruder,dregs crusher of boiler. Plastic feeder.Rubber
smelling machine.etc.
Product Parameters
Packaging & Shipping
All the products can be packed in cartons,or,you can choose the pallet packing.
MADE IN CHINA can be pressed on wooden cases.Land,air,sea transportation are available.UPS,DHL,TNT,
FedEx and EMS are all supported.
Company Profile
About Mighty Machinery
ZheJiang Mighty Machinery Co., Ltd., specializes in manufacturing Mechanical Power Transmission Products. After over 13 years hard work, MIGHTY have already get the certificate of ISO9001:2000 and become a holding company for 3 manufacturing factories. 
MIGHTY advantage
1, Abundant experience  in the mechanical processing industries.
2,Large quality of various material purchase and stock in warhouse which ensure the low cost for the material and  production in time.
3,Now have 5 technical staff, we have strong capacity for design and process design, and more than 70 worker now work in our FTY and  double shift eveyday.
4,Strick quality control are apply in the whole prodution. we have incoming inspection,process inspection and final production inspection which can ensure the perfect of the goods quality.
5,Long time cooperate with the Global Buyer, make us easy to understand the csutomer and handle the export.
FAQ
Q1: Who are we?
A: We manufacture power transmission parts,Gear and Machined components since 1984.Our factory is located in ZheJiang , China.
Q2: What is your advantage?
A: 1) 30 years Producing Experiences,Transmission Part Professinal
2) Strong production capacity
3) Inspect every goods rigidly to make sure stable quality
Q3: Could I have a sample Order?
A: Yes, we welcome sample order to test and check quality.
Q4: Could you accept customized order?
A: Yes, We supply both of standard and customized products.
Q5: How to custom-made(OEM/ODM)?
A: Please send you product drawings or samples to us if you have, and we can custom-made as you requirements.
We will also provide professional advices of the products to make the design to be maximize the performance.
| | |
| --- | --- |
| Standard Or Nonstandard: | Standard |
| Torque: | 160-360nm |
| Bore Diameter: | Pilot Bore or Taper Bore |
| Structure: | Flexible |
| Material: | Cast Iron |
| Type: | Flexible Coupling |
Samples:

US$ 16.9/Piece

1 Piece(Min.Order)

|
Request Sample
Customization:

Available

|

Customized Request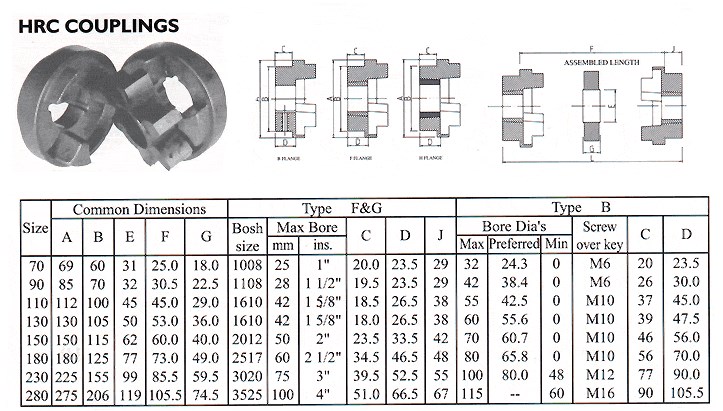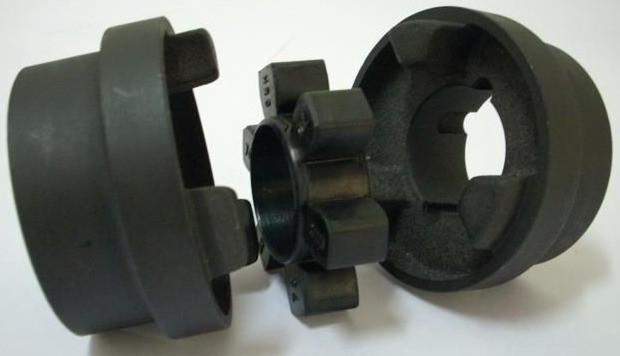 How Does an HRC Coupling Protect Connected Equipment from Shock Loads and Vibrations?
HRC (Highly Resilient Coupling) couplings are designed to protect connected equipment from shock loads and vibrations through their unique construction and material properties:
Flexible Elastomeric Element: The key component of an HRC coupling is the flexible elastomeric element positioned between the two metal hubs. This elastomer acts as a mechanical buffer, capable of absorbing and dissipating shock loads and vibrations that may occur during operation.
Damping of Vibrations: The elastomeric element's flexibility allows it to dampen torsional vibrations and dampen the impact of sudden shock loads. This helps in reducing resonance effects and minimizing the transmission of vibrations to the connected equipment.
High Resilience: HRC couplings are made from elastomers with high resilience, meaning they can deform under load and return to their original shape after the load is removed. This property enables them to absorb and dissipate energy, protecting the system from sudden shocks.
Misalignment Compensation: In addition to shock and vibration absorption, HRC couplings can also compensate for small amounts of misalignment between shafts. This capability further enhances the protection of connected equipment by reducing the stress caused by misalignment.
When equipment experiences shock loads or vibrations, the elastomeric element flexes and compresses, acting as a shock absorber. This prevents the sudden transmission of high impact forces to the connected machinery, reducing the risk of damage and premature wear.
Moreover, by damping vibrations, HRC couplings improve the overall stability and smoothness of the power transmission system. This contributes to the longevity of connected equipment and reduces the likelihood of mechanical failures or downtime.
Overall, HRC couplings play a vital role in safeguarding connected equipment from shock loads and vibrations, promoting the reliability and performance of mechanical systems in various industrial applications.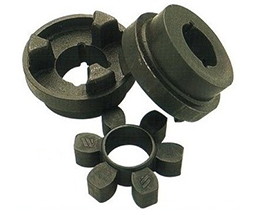 Can HRC Couplings Be Used in Both Horizontal and Vertical Shaft Arrangements?
Yes, HRC (Highly Resilient Coupling) couplings can be used in both horizontal and vertical shaft arrangements, making them versatile options for various applications.
Horizontal Shaft Arrangements: In horizontal shaft arrangements, the shafts are positioned parallel to the ground, and the rotational axis is horizontal. HRC couplings are commonly used in this configuration to transmit torque between two shafts with a certain level of misalignment. They are particularly effective in absorbing shock loads, dampening vibrations, and compensating for slight misalignments, which are often encountered in rotating machinery.
Vertical Shaft Arrangements: In vertical shaft arrangements, the shafts are positioned vertically, and the rotational axis is perpendicular to the ground. This configuration is commonly found in applications such as vertical pumps, vertical motors, and gearboxes. When using HRC couplings in vertical shaft arrangements, additional consideration is required to ensure that the coupling can support the weight of the connected equipment and accommodate any potential misalignment due to gravitational forces.
When selecting an HRC coupling for a vertical shaft arrangement, it is essential to choose a coupling with adequate torque capacity and stiffness to handle the weight of the equipment and any dynamic forces resulting from the vertical orientation.
In summary, HRC couplings are suitable for both horizontal and vertical shaft arrangements, providing reliable power transmission and compensating for misalignment and vibration in various mechanical systems.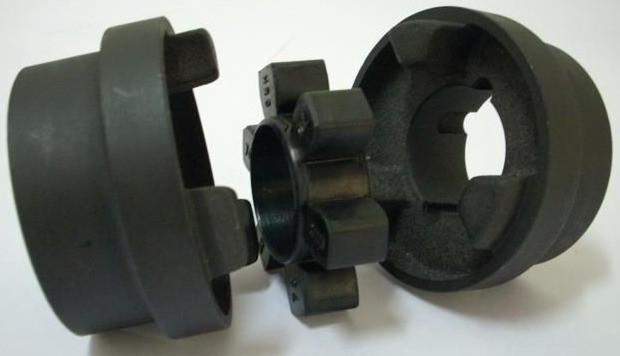 Materials Used in Manufacturing HRC Couplings
HRC couplings are typically made from a combination of different materials to provide the necessary properties for efficient power transmission and durability. The common materials used in manufacturing HRC couplings include:
Cast Iron: Cast iron is a widely used material for HRC couplings due to its excellent strength, durability, and resistance to wear and deformation. It is suitable for various industrial applications and can handle substantial torque and misalignment.
Steel: Steel is another popular choice for HRC coupling construction. It offers high tensile strength, good fatigue resistance, and the ability to handle high-speed applications. Steel HRC couplings are suitable for demanding environments and heavy-duty machinery.
Stainless Steel: Stainless steel HRC couplings are ideal for applications where corrosion resistance is essential. They are commonly used in industries such as food processing, pharmaceuticals, and marine environments.
Aluminum: Aluminum HRC couplings are lightweight and have excellent corrosion resistance. They are suitable for low to medium torque applications where weight reduction is a concern.
Bronze: Bronze is used in specialized HRC coupling designs, particularly for applications requiring low friction and high wear resistance. It is commonly used in marine and heavy machinery applications.
Polyurethane: Polyurethane is used for the flexible elements of HRC couplings. It offers good shock absorption and vibration damping properties, contributing to the coupling's ability to protect connected equipment from shocks and vibrations.
Other Composite Materials: Some HRC couplings may feature composite materials that combine the benefits of different materials, such as rubber compounds with metal reinforcement, to provide specific performance characteristics.
The material selection for HRC couplings depends on the application requirements, including torque, speed, environmental conditions, and industry standards. Manufacturers often provide a range of material options to suit various applications and ensure reliable and efficient power transmission.



editor by CX 2023-10-07