Product Description
T40 – T210 SBT Elastic Spider, SBT Polyurethane Coupling, SBR Spider Coupling for Jaw Coupling (3A2006)
 
SBT Type elastic spider is suitable to water pumps and mechnical cushinoning effect to joint of transmission shaft.
 
Advabtages:
1. Extremely resistant to wear, oil, CHINAMFG and ageing. Also resistant to hydrolysis (ideal for tropical climates)
2. Protect the drive against dynamic overload.
3. Good physical properties.
4. Easy installation .
5. OEM
 
Technical Data
Operating conditions
Temperature: -40~+100°C
Torque:  22.4-2500NM
 
Material
Material: NBR, CPU/TPU
Hardness: 70, 90, 95, 98 Shore A
 
 
Specifications:
 
product advantage
1. Widely used in all kinds of water pumps
 
2. Easy installation
Material composition
TPU, NBR
Working Temperature
-30ºC~+100ºC
Product hardness(shore A)
TPU:90, 95, 98+-2shore A, NBR:70+/-5shore A
Torque
22.4-2500NM
Size
any regular size or based on customer request
Color
black or natural
Logo
Yierka or customer logo is available
working midea
water, oil
OEM&ODM
welcome
Sample lead time
Within 7 days
Production lead time
15 days or as per customers' order quantity
Ship menthods
by ocean/air or express is okay
Delivery port
HangZhou, ZheJiang or ZheJiang
Payment terms
1.T/T 2. L/C 3. Western Union
Our Advantage:
1.nearly 10 years manufacturing experience
skilled workers, technology are abuntant.
 
2.In 1991,we cooperate with Chinese Academy of Science conducting the cooperation for seal technology applying in the mine, hydraulic and pneumatic system and engineering system.
Normal Size
part number
ID(mm)
OD(mm)
H(mm)
SBT-40
18
40
10
SBT-45
20
45
10
SBT-56
27
56
15
SBT-62
30
62
15
SBT-65
30
65
15
SBT-75
35
75
15
SBT-79
40
79
15
SBT-90
45
90
18
SBT-94
45
94
18
SBT-104
55
104
23
SBT-108
55
108
24
SBT-126
60
126
28
SBT-133
60
133
25
SBT-154
79
154
27
SBT-170
80
170
28
SBT-175
85
175
30
SBT-180
90
180
30
SBT-200
100
200
36
Description: the polyurethane elastomeric is a new material of polymer synthetic between rubber and plastic. It has both high strength of plastic and high elasticity of rubber. Its characteristics are: 1, a wide range of hardness. It still has rubber elongation and resilience at high hardness. The polyurethane elastomeric has a hardness range of Shore A10-D80. 2. high strength. At rubber hardness, the tensile strength, tear strength and load carrying capacity are much higher than general rubber material. At high hardness, its impact strength and flexural strength are much higher than plastic material. 3, wear-resistant. Its wear resistance is very outstanding, generally in the range of 0.01-0.10cm3/1.61km, about 3-5 times than rubber material. 4, oil resistant. The polyurethane elastomeric is a highly CHINAMFG polymer compound which has low affinity with non-polar mineral oil and is hardly eroded in fuel oil and mechanical oil. 5, good resistance to oxygen and ozone. 6, excellent vibration absorption performance, can do damping and buffering. In the mold manufacturing industry, it replaces rubber and springs.7, has good low temperature performance. 8, radiation resistance. Polyurethane is highly resistant to high energy radiation and has satisfactory performance at 10-10 deg radiation dose. 9, with good machining performance.
The polyurethane coupling, rubber coupling are made by injection with high quality TPU material or mould CSM/SBR. It is designing and special for all kinds of metal shaft coupling with very good performance of high tensile strength, high wear resistant, high elastic resilience, water resistant, oil resistant and excellent fatigue resilience, high impact resistant etc. We have full sets injection moulds and supply full range of GR, GS, MT, ML, MH, Hb, HRC, L, T, NM and Gear J series couplings etc. with high quality and excellent experience. Apply to all kinds of industrial metal shaft coupling.
Specifications:
material: TPU, CSM/SBR, NBR, nylon etc.
color: yellow, red, purple, green, black, beige etc.
surface: smooth
tensile strength: 8-55Mpa
hardness: 70-98Shore A
elongation: 400%-650%
density: 1.25g/cm3
elasticity impact: >25%
tear strength: 35-155KN/m
akron abrasion loss:<0.05cm3/1.61km
compression set (22h*70°C):<10%
working temperature: 120°C
standard size for polyurethane coupling: 
GR14, GR19, GR24, GR28, GR38, GR42, GR48, GR55, GR65, GR75, GR90, GR100, GR110, GR125, GR140, GR160, GR180
GS5, GS7, GS9, GS12, GS14, GS19, GS24, GS28, GS38, GS42, GS48, GS550, GS65, GS75
MT1, MT2, MT3, MT4, MT5, MT6, MT7, MT8, MT9, MT10, MT11, MT12, MT13
ML1, ML2, ML3, ML4, ML5, ML6, ML7, ML8, ML9, ML10, ML11, ML12, ML13
MH45, MH55, MH65, MH80, MH90, MH115, MH130, MH145, MH175, MH200
HRC70, HRC90, HRC110, HRC130, HRC150, HRC180, HRC230, HRC280
L35, L50, L70, L75, L90/95, L99/100, L110, L150, L190, L225, L276
FALK-R 10R, 20R, 30R, 40R, 50R, 60R, 70R, 80R
SBT T40, T45, T50, T55, T60, T65, T70, T75, T80, T85, T90, T95, T100, T105, T108, T110, T115, T120, T125, T130, T135, T140, T145, T150, T154, T170, T185, T190, T210
Joong Ang CR0050, 0070, 571, 571, 2035, 2035A, 3545, 4560, 6070, 7080
MS571, MS571, MS1119, MS1424, MS1928, MS1938, MS2845, MS3860, MS4275, MS6510
D14, D14L, D20, D25, D30, D30L, D35, D40, D45, D49, D55, D65
5H, 6H, 7H, 8H, 9H, 10H, 11H
standard size for rubber coupling:
Hb80, Hb95, Hb110, Hb125, Hb140, Hb160, Hb180, Hb200, Hb240, Hb280, Hb315
HRC70, HRC90, HRC110, HRC130, HRC150, HRC180, HRC230, HRC280
L35, L50, L70, L75, L90/95, L99/100, L110, L150, L190, L225
NM50, NM67, NM82, NM97, NM112, NM128, NM148, NM168, NM194, NM214, NM240, NM265
NOR-MEX168-10, NOR-MEX194-10, NOR-MEX214-10, NOR-MEX240-10, NOR-MEX265-10
FCL1#, FCL2#, FCL3#, FCL4#, FCL5#, FCL6#, FCL7#, FCL8#
FCL90, FCL100, FCL112, FCL125, FCL140, FCL160, FCL180, FCL200, FCL224, FCL250, FCL280, FCL315, FCL335, FCL400, FCL450, FCL560, FCL630
Gear 3J, 4J, 5J, 6J, 7J, 8J, 9J, 10J, 11J, 12J, 13J, 14J
Hytre 4H, 5H, 6H, 7H, 8H, 9H, 11H
Tyre F40, F50, F60, F70, F80, F90, F100, F110, F120, F140, F160 
SBT T75, T80, T85, T90, T95, T100, T105, T108, T110, T115, T120, T125, T130, T135, T140, T145, T150, T154, T170, T210
FCLpin #1, #2, #3, #4, #5, #6, #8
GR42, GR48, GR55, GR65, GR75
DL1, DL2, DL3, DL4, DL5, DL6, DL7, DL8, DL9, DL10, DL11
standard size for nylon coupling:
NL1, NL2, NL3, NL4, NL5, NL6, NL7, NL8, NL9, NL10
M28, M32, M38, M42, M48, M58, M65
packing in bags, cartons, pallets or crates
OEM & customized size are agreed
special supply all kinds of steel coupling for FCL, NM, MH, HRC, Love Joy, Joongang, Centafelx, XL-GR, Tyre
***when you enquiry, pls confirm type, size number and quantity***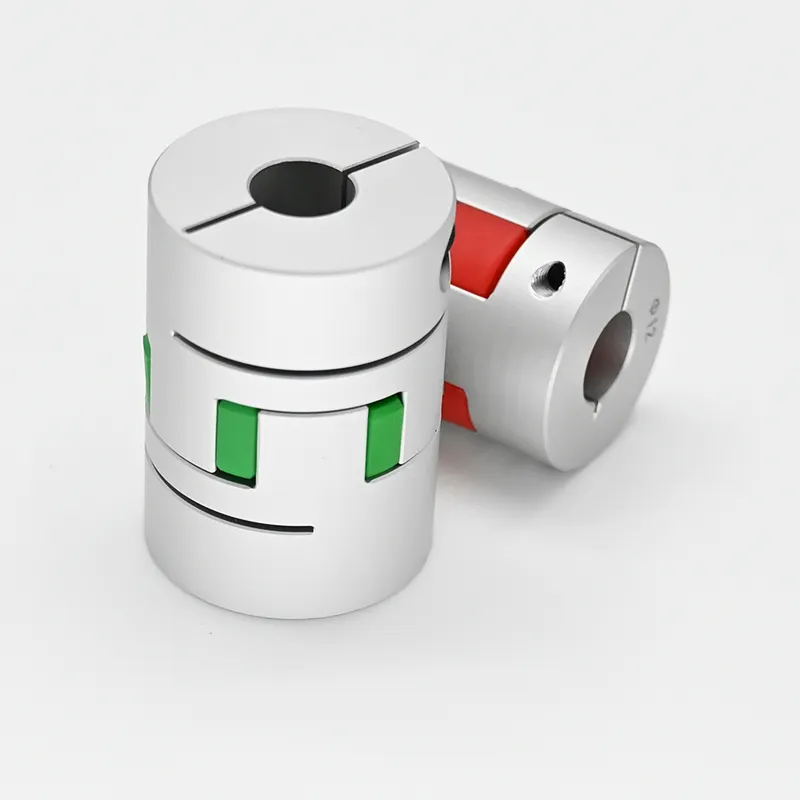 Use of Jaw Couplings in Food Processing and Pharmaceutical Industries
Jaw couplings can be used in food processing and pharmaceutical industries under certain conditions and with the appropriate materials and design considerations. These industries have strict regulations and requirements regarding hygiene, contamination prevention, and cleanability. Here are some key factors to consider:
Material Selection: For applications in food processing and pharmaceutical industries, jaw couplings must be made from materials that meet FDA and/or other regulatory standards for food contact and pharmaceutical use. Stainless steel or FDA-approved plastics are commonly used in such applications.
Cleanability: The design of the jaw coupling should allow for easy cleaning and sanitization. Smooth surfaces and minimal crevices help prevent the accumulation of debris and bacteria. Hygienic designs are crucial to ensure compliance with industry standards.
Sealing: Proper sealing is essential to prevent any lubricants or contaminants from escaping the coupling and coming into contact with the processed materials. Seal materials must be compatible with the substances used in the industry.
Corrosion Resistance: In food processing and pharmaceutical environments, equipment is often subjected to aggressive cleaning agents and chemicals. Jaw couplings must be corrosion-resistant to withstand these harsh conditions and maintain their performance over time.
Compliance with Regulations: Industries such as food processing and pharmaceuticals have specific regulatory standards, such as those set by the FDA (Food and Drug Administration) or other relevant authorities. The jaw couplings used in these applications must meet all necessary regulations to ensure product safety and consumer confidence.
It is important to note that while jaw couplings can be suitable for certain applications in food processing and pharmaceutical industries, it is essential to work closely with coupling manufacturers and suppliers to ensure that the selected couplings meet all industry-specific requirements and standards. Additionally, regular maintenance and inspection should be carried out to ensure the couplings continue to perform as expected and comply with hygiene and safety regulations.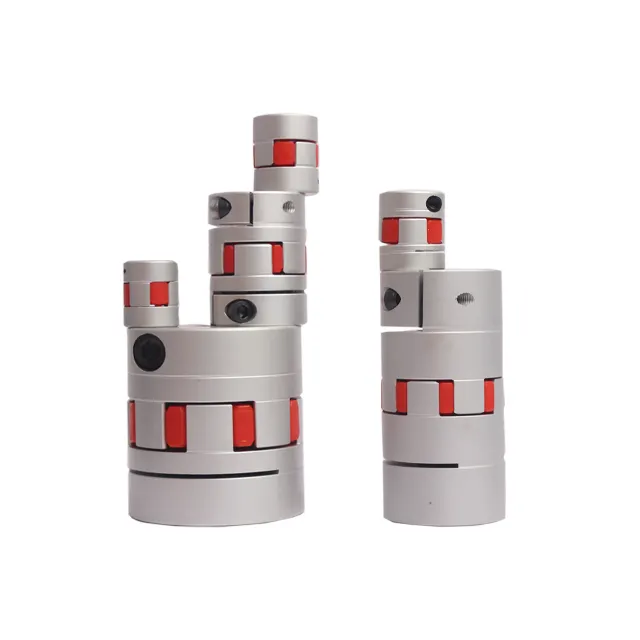 Can jaw couplings be used in heavy-duty applications such as mining and construction?
Yes, jaw couplings can be used in heavy-duty applications such as mining and construction, but their suitability depends on various factors. Jaw couplings are commonly employed in a wide range of industrial applications due to their versatility and ability to handle misalignment. However, when considering their usage in heavy-duty environments, several important aspects need to be taken into account:
Torque and Power Requirements: Heavy-duty applications often involve high torque and power demands. It is crucial to ensure that the selected jaw coupling is rated to handle the specific torque and power levels encountered in the mining and construction machinery. Choosing a coupling with a sufficient torque capacity ensures reliable power transmission without premature failure.
Material Strength: The materials used in the construction of jaw couplings play a critical role in their ability to withstand heavy-duty applications. Couplings made from robust materials, such as high-strength steel or alloy materials, are better suited for withstanding the demanding conditions found in mining and construction equipment.
Impact and Shock Resistance: Mining and construction applications involve significant levels of impact and shock loads due to the nature of the work. The jaw coupling must be designed to handle these dynamic loads without compromising its structural integrity. Some jaw couplings feature specially designed elastomers or flexible elements that provide additional shock absorption and reduce the transmitted impact forces.
Dust and Debris Management: Heavy-duty environments like mining and construction sites often contain high levels of dust, dirt, and debris. These particles can accumulate on the coupling surfaces and lead to premature wear and reduced performance. Selecting jaw couplings with appropriate sealing mechanisms or protective covers can help minimize the ingress of contaminants and extend the coupling's life in such environments.
Maintenance and Inspection: Regular maintenance and inspection are crucial in heavy-duty applications to identify any signs of wear, misalignment, or damage to the coupling. Proper maintenance practices can prevent unexpected failures and ensure the equipment operates efficiently and safely.
When considering the use of jaw couplings in heavy-duty applications like mining and construction, it is essential to consult with coupling manufacturers or engineering experts to select the appropriate coupling type and size for the specific application. Some heavy-duty applications might require more specialized coupling designs, such as grid couplings, gear couplings, or disc couplings, which are explicitly engineered for extreme conditions and higher torque capacities. Additionally, following the manufacturer's guidelines and recommendations for coupling installation, maintenance, and operating parameters is critical to ensure reliable and safe operation in heavy-duty environments.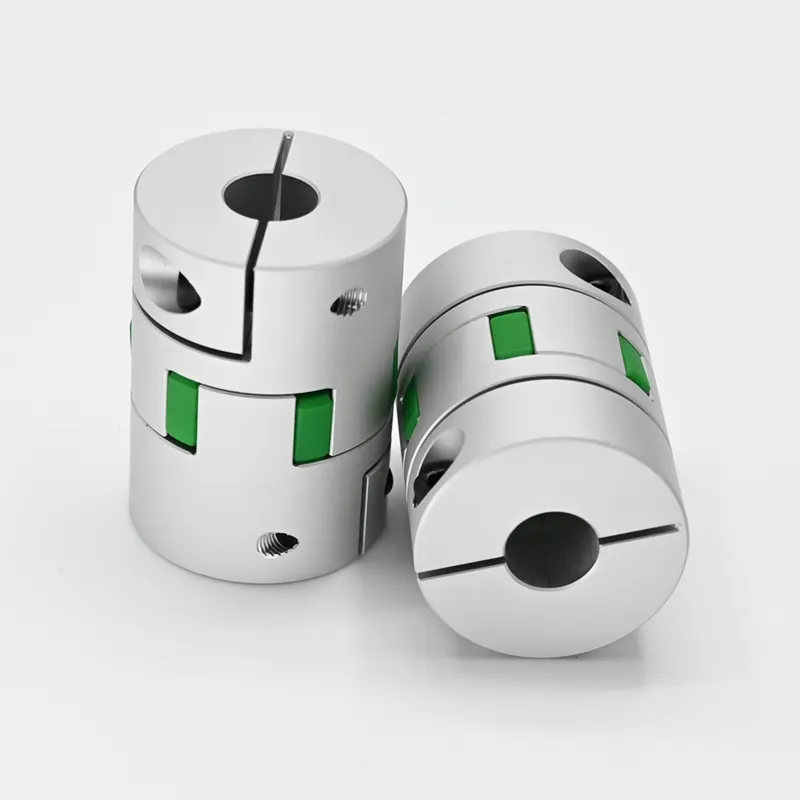 What is a Jaw Coupling and How Does It Work?
A jaw coupling is a type of mechanical coupling used to connect two shafts in machinery. It is designed to transmit torque while compensating for shaft misalignments and dampening vibrations. The coupling consists of two hubs with three curved jaws each and an elastomeric spider placed between them.
The working principle of a jaw coupling is based on the flexibility of the elastomeric spider. When the two hubs are brought together, the spider gets compressed between them. The curved shape of the jaws allows the spider to flex, accommodating angular and axial misalignments between the shafts.
During operation, when torque is applied to one shaft, it is transmitted through the spider to the other shaft, enabling power transmission. The elastomeric material of the spider also acts as a damping element, reducing vibrations and shock loads in the system.
Jaw couplings are commonly used in various applications, such as pumps, compressors, conveyors, and other power transmission systems. Their simple design, ease of installation, and ability to handle misalignments make them popular choices for connecting rotating shafts in machinery.



editor by CX 2023-10-05