Product Description
Product Description
DO NOT worry about PRICE, we are manufacturer.
DO NOT worry about QUALITY, we have 16 years experience.
DO NOT worry about AFTER-SALES, we are 24 hours online.
Features :
1. The main body is made of high strength aluminum alloy
2. Zero backlash, suitable for forward and reverse rotation
3.Colloid is made of polyurethane, which has good wear resistance
4.Oil resistance and electrical insulation, the middle elasticbody can absorb vibration
5. Compensate radial, angular and axial deviations
6. Removable design for easy installation
7. Tightening method of positioning screw
Suitable for a wide range of devices
    CNC lathes                                                Optical inspection equipment
                     Module slider                                                                 Servo motor
Company Profile
Certifications
Packaging & Shipping
All products will be well packed with standard export wooden case or
cartons.
Shafts packed with paper tube or plastic bag;
Linear guideways or lead screwswrapped with film or plastic bag;
Guarantee well protected against dampness,moisture, rust and shock.
Our Advantages
FAQ
Q1: Do you have a catalogue? Can you send me the catalogue to have a check of all your products?
A: Yes , We have product catalogue.Please contact us on line or send an Email to sending the catalogue.
 
Q2: I can't find the product on your catalogue, can you make this product for me?
A: Our catalogue shows most of our products,but not all.So just let us know what product do you need.
Q3 : Can you make customized products and customized packing?
A: Yes.We made a lot of customized products for our customer before.And we have many moulds for our customers already.About customized packing,we can put your Logo or other info on the packing.There is no problem.Just have to point out that ,it will cause some additional cost.
Q4: Can you provide samples ? Are the samples free ?
A: Yes,we can provide samples.Normally,we provide 1-2pcs free samples for test or quality checking.But you have to pay for the shipping cos.If you need many items, or need more qty for each item,we will charge for the samples.
Any requirements or question,Welcome to "Send" us an e-mail Now!
It's our great honor to do services for you! You also can get the FREE SAMPLES soon.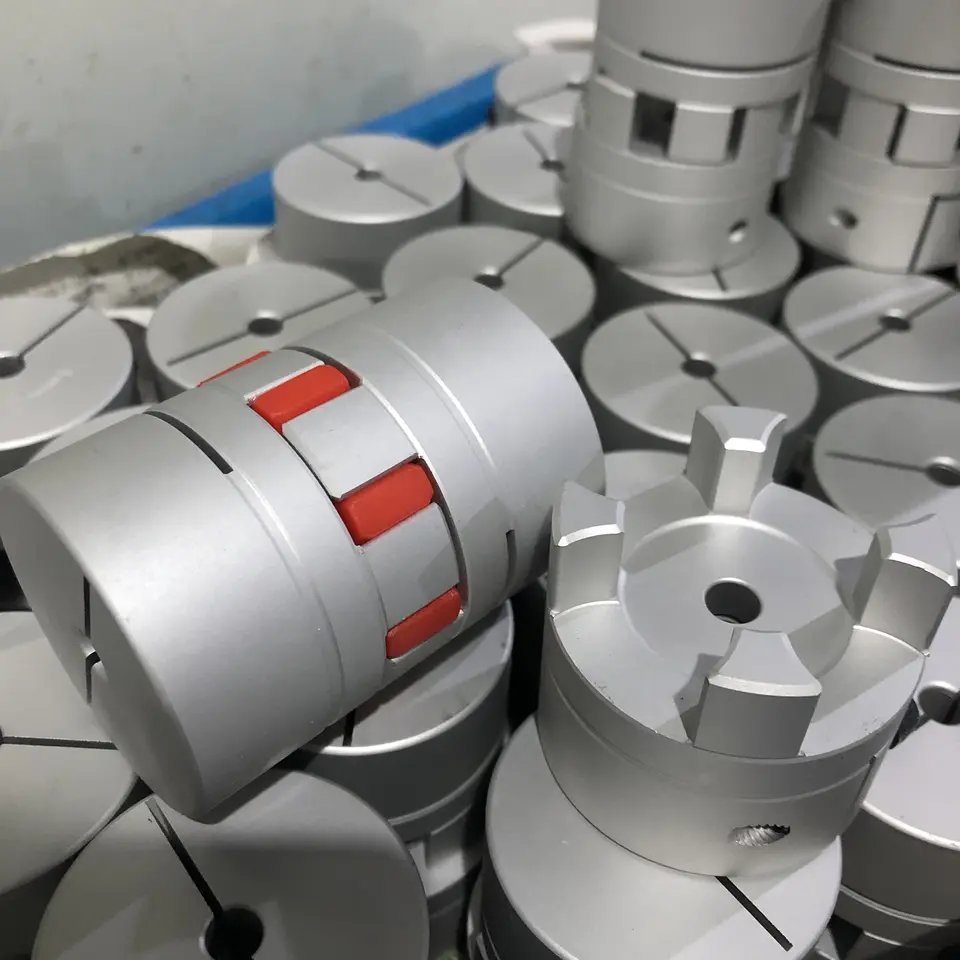 Torque and Speed Ratings for Different Sizes of Jaw Couplings
The torque and speed ratings for jaw couplings vary depending on their size and design. Manufacturers typically provide specifications for different sizes of jaw couplings, and it's essential to select the appropriate coupling based on the specific requirements of the application. Here's how torque and speed ratings are determined for jaw couplings:
Torque Rating: The torque rating of a jaw coupling is the maximum amount of torque it can transmit without causing failure. It is typically specified in Newton-meters (Nm) or inch-pounds (in-lb). Larger jaw couplings generally have higher torque ratings than smaller ones, as they can accommodate more substantial loads.
Speed Rating: The speed rating of a jaw coupling refers to the maximum rotational speed at which it can operate efficiently and reliably. It is usually specified in revolutions per minute (RPM). Higher-speed applications may require jaw couplings designed to handle increased rotational velocities.
It's essential to carefully match the torque and speed requirements of the application with the appropriate jaw coupling size. Undersized couplings may result in premature failure, while oversized couplings might lead to reduced flexibility and increased wear. Manufacturers' catalogs or product datasheets provide detailed information on the torque and speed ratings for each coupling size, helping engineers and designers make informed decisions when selecting the right coupling for their specific needs.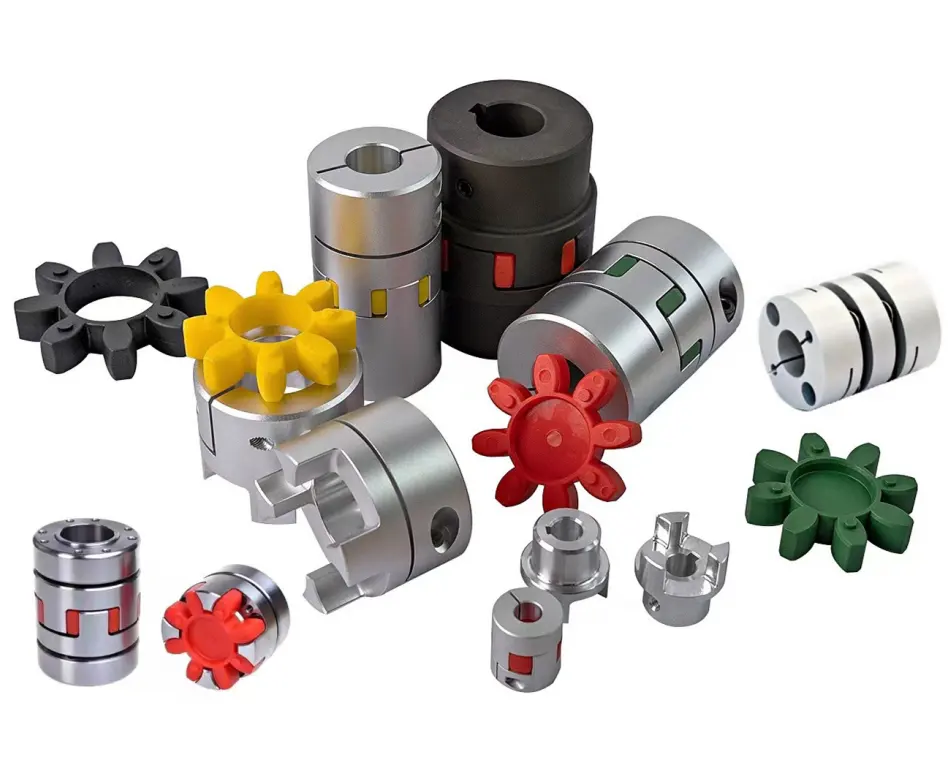 Can jaw couplings be used in applications with high shock and impact loads?
Yes, jaw couplings can be used in applications with high shock and impact loads, but their suitability depends on the specific design and construction of the coupling as well as the magnitude and frequency of the shock and impact loads. Jaw couplings are known for their ability to handle certain levels of shock and vibration due to the presence of the elastomer spider, which acts as a damping element to absorb and dissipate vibrations. However, there are some important considerations to take into account when using jaw couplings in high shock and impact load applications:
Coupling Material: The choice of coupling material is crucial in applications with high shock and impact loads. Couplings made from robust materials, such as steel or alloy, provide better resistance to deformation and can handle higher impact forces compared to couplings made from less sturdy materials.
Elastomer Spider: The elastomer spider is the central element of the jaw coupling and is responsible for absorbing shocks and vibrations. It is essential to select an elastomer spider with the appropriate hardness and resilience for the specific application. Harder elastomers can withstand higher loads but may transmit more vibration, while softer elastomers offer better shock absorption but have lower torque capacity. Choosing the right elastomer hardness is a trade-off between shock absorption and torque transmission requirements.
Operating Conditions: Consider the operating conditions, such as the frequency and magnitude of shock and impact loads, when selecting a jaw coupling. For applications with intermittent or occasional shock loads, standard jaw couplings with moderate shock absorption capabilities may suffice. However, for continuous or severe shock loads, specialized high-torque jaw couplings with enhanced shock absorption properties might be more suitable.
Regular Maintenance: In high shock and impact load applications, it is crucial to perform regular maintenance and inspections to identify any signs of wear, fatigue, or damage to the coupling components. Regular maintenance ensures that the coupling remains in good working condition and minimizes the risk of unexpected failures due to excessive loading.
Consider Alternative Couplings: While jaw couplings can handle certain levels of shock and impact loads, some applications with exceptionally high loads may require more specialized couplings, such as grid couplings, gear couplings, or disc couplings. These couplings are designed explicitly for heavy-duty applications with high shock and impact loads and can offer superior performance and reliability under such conditions.
In conclusion, jaw couplings can be used in applications with high shock and impact loads, but the specific coupling design, material, elastomer hardness, and operating conditions must be carefully considered. Proper selection, installation, and maintenance of the coupling are essential to ensure reliable performance and longevity in challenging operating environments with significant shock and impact loads.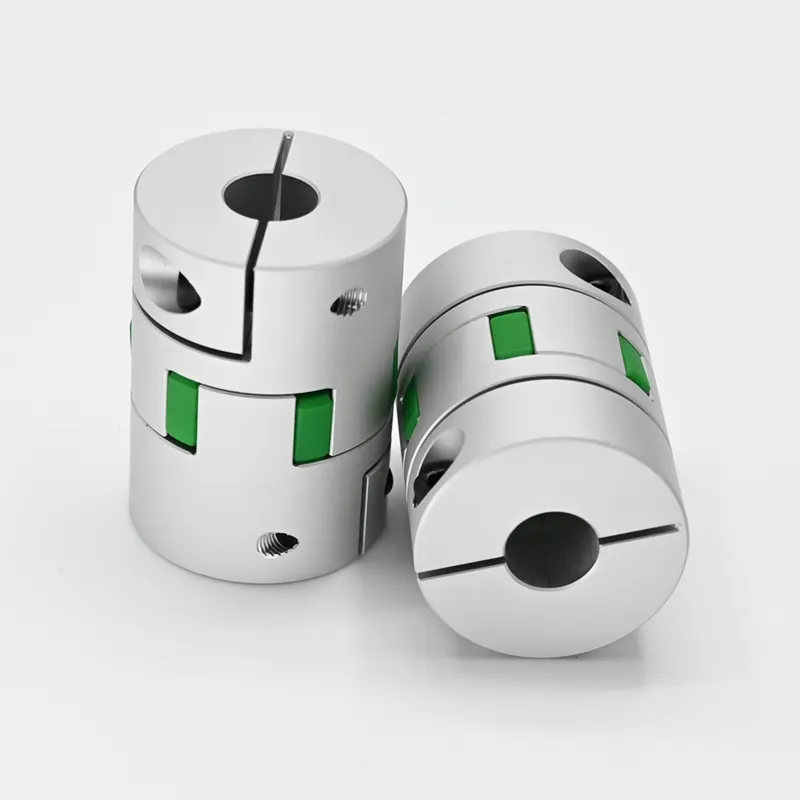 Handling Angular, Parallel, and Axial Misalignment with Jaw Couplings
Jaw couplings are designed to handle various types of misalignment that can occur between the shafts they connect. These misalignments include:
Angular Misalignment: When the shafts are not aligned in a straight line and have an angular offset, jaw couplings can accommodate this misalignment due to the flexibility of their elastomeric spider. The spider allows for a limited amount of angular movement between the hubs, reducing stress on the connected equipment.
Parallel Misalignment: Parallel misalignment occurs when the shafts are not perfectly aligned but are parallel to each other. Jaw couplings can handle parallel misalignment to some extent, thanks to the elastomeric spider's ability to flex and offset slight shaft misalignments.
Axial Misalignment: Axial misalignment refers to the displacement of shafts along their rotational axis. While jaw couplings are primarily designed for torque transmission and misalignment compensation, they have limited capability to handle axial misalignment. Excessive axial misalignment can lead to premature wear and reduce the coupling's effectiveness.
It's important to note that jaw couplings have specific misalignment limits, and exceeding these limits can lead to increased wear and decreased performance. Regular maintenance and inspection of jaw couplings are essential to ensure they are operating within acceptable misalignment parameters.



editor by CX 2023-09-30