Product Description
Cheaper High Torque Spider Type Jaw Coupling for motor
Quick Details
Structure: Jaw / Spider
Flexible or Rigid: Flexible
Standard or Nonstandard: Standard
Material: Aluminium
Brand Name: YD
Place of Origin: ZheJiang , China (Mainland)
Model Number: JM
Certificate: ISO9001:2008
Bore forming: Made by CNC centres
Unique Feature: Exquisite Workmanship
Bore Size: Meet inch dimension
Invertory: In stock
Spider color: Red (Green and Yellow selected)
Area of Min.aperture: 3-22mm
Area of Max.Aperture: 7-80mm
Max. Torque: 2.4-1880mm
Features:
1. Light weight, smal  moment of inertia and high torque.
2. Getting  the drive vibration buffer, and absorbing the impact generated by motor's uneven operation
3. Effectively correcting  the installation deviation of axial and radial and angular
Your kind response of below questions will help us to recommed the most suitable model to you asap.
1.Are you looking for JM type(setscrew) or JM-C type(clamp)?
2.What is coupling outer dimeter size?
3.What is coupling inner bore size and length?
4.What is coupling material(aluminium or Stainless steel )?
Dimensions:
  Model

 

Inner Diameter
Outer
Diameter
Length
Torque(N.M.)
D1
D2
Min.
Max.
Min.
Max.
JM14
3
7
3
7
14
22
0.7
JM16
3
7
3
7
16
22
0.7
JM20
4
10
4
10
20
30
1.7
JM25
4
12
4
12
25
34
1.7
JM30
5
16
5
16
30
35
1.7
JM40
6
24
6
24
40
66
4.0
JM55
8
28
8
28
55
78
4.0
JM65
10
38
10
38
65
90
15.0
JM80
12
45
12
45
80
114
15.0
JM95
14
55
14
55
95
126
15.0
JM105
15
62
15
62
105
140
15.0
JM120
20
74
20
74
120
160
32.0
JM135
22
80
22
80
135
185
32.0
 
Packaging Details:
Wooden or ply cases for export standard or according to the customers
Delivery Detail:3-5 days after receiving the 30% deposit
Contact Us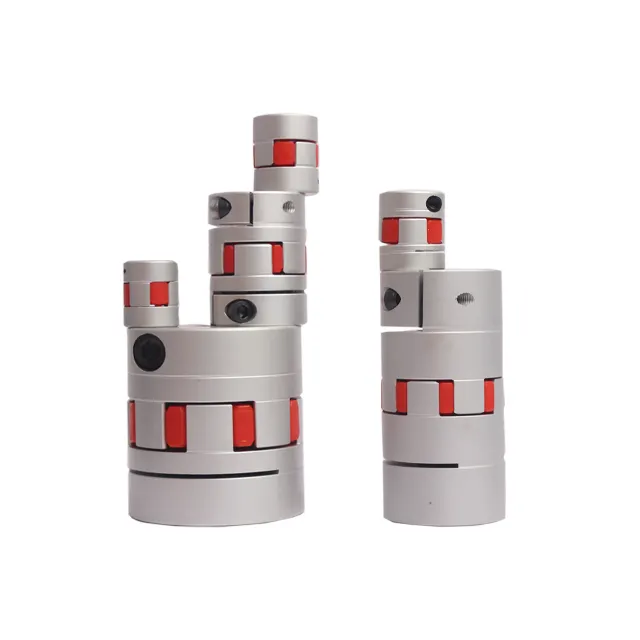 Use of Jaw Couplings in Corrosive or Harsh Environments
Jaw couplings can be used in certain corrosive or harsh environments, but the choice of materials and design should be carefully considered to ensure the coupling's performance and longevity. Here's how jaw couplings can be utilized in such environments:
Material Selection: For corrosive environments, it is essential to choose materials that can withstand the specific chemicals or substances present. Stainless steel or other corrosion-resistant alloys are commonly used in jaw couplings to ensure resistance to rust and corrosion. These materials protect the coupling from degradation caused by exposure to corrosive elements.
Sealing Mechanism: In harsh environments where contaminants or particles may be present, proper sealing becomes crucial. Many jaw couplings have various sealing options to prevent foreign materials from entering the coupling and affecting its performance. Seals can help keep the coupling's interior clean and protect it from damage due to harsh substances.
Environmental Protection: In applications where the coupling is exposed to harsh elements, it might be beneficial to utilize protective covers or guards. These can shield the coupling from direct contact with abrasive materials or chemicals, further extending its lifespan in challenging conditions.
Regular Maintenance: In corrosive or harsh environments, proper and regular maintenance is crucial. Cleaning and inspecting the coupling periodically can help identify any signs of wear or damage and allow for timely replacements or repairs, minimizing the risk of failure in service.
While jaw couplings can be used in certain corrosive or harsh environments, it is essential to assess the specific conditions and requirements of the application carefully. In some instances, alternative coupling types or additional protective measures may be more suitable to ensure optimal performance and longevity. Consulting with coupling manufacturers or engineering experts can provide valuable insights in selecting the most appropriate coupling for a given environment.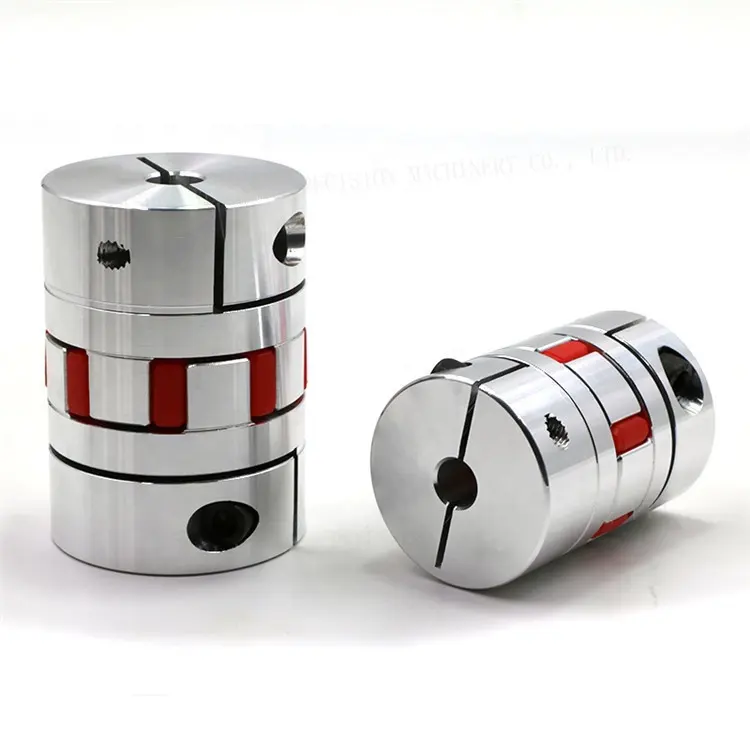 What are the real-world applications of jaw couplings in various industries?
Jaw couplings find extensive use in various industries due to their versatility, ease of installation, and ability to handle misalignment. Their robust design and flexible elastomer spider make them suitable for a wide range of applications. Here are some real-world applications of jaw couplings in different industries:
Industrial Machinery: Jaw couplings are commonly used in industrial machinery for power transmission between motors and driven equipment. They are found in conveyor systems, pumps, fans, compressors, mixers, and other rotating equipment. Their ability to compensate for misalignment and dampen vibrations makes them ideal for such applications.
Agriculture: In agricultural equipment, jaw couplings are employed to transfer power from tractors or other power sources to various implements such as plows, mowers, and harvesters. The couplings' resistance to shock and impact loads makes them suitable for the rugged conditions encountered in agricultural operations.
Construction and Mining: Jaw couplings are used in construction and mining machinery to transmit power between engines and equipment like concrete mixers, excavators, rock crushers, and conveyor systems. The couplings' ability to handle misalignment and shock loads is beneficial in these demanding and dynamic environments.
Material Handling: Jaw couplings are employed in material handling systems, including automated production lines and warehouse conveyors. They facilitate smooth power transmission in equipment like belt conveyors, bucket elevators, and packaging machines.
Marine: In the marine industry, jaw couplings are used in propulsion systems to connect engines to propellers and other equipment. Their resistance to corrosion and ability to handle misalignment make them suitable for marine applications in various vessels, including boats and ships.
Printing and Packaging: Jaw couplings are used in printing and packaging machinery to drive rollers, slitters, and other components. Their precise torque transmission and ability to handle small misalignments contribute to the smooth operation of these machines.
Automotive: In the automotive sector, jaw couplings are used in various applications, including power steering systems, engine-driven accessories, and HVAC blowers. Their compact design and efficient power transmission characteristics are well-suited for automotive applications.
Textile: Jaw couplings are used in textile machinery to drive spinning frames, looms, and other textile processing equipment. Their ability to handle misalignment and provide smooth power transmission is vital in maintaining the precision required for textile production.
Medical Equipment: Jaw couplings are utilized in medical devices and equipment to transfer power between motors and driven components. Their compact size and quiet operation are advantageous for various medical applications.
Renewable Energy: Jaw couplings are used in renewable energy applications, such as wind turbines and solar tracking systems, to transmit power between the generator and other components. Their ability to handle misalignment is beneficial in these dynamically changing environments.
In summary, jaw couplings have widespread applications across multiple industries due to their ability to handle misalignment, dampen vibrations, and provide efficient power transmission. Their adaptability and reliability make them a popular choice for various mechanical systems in different sectors.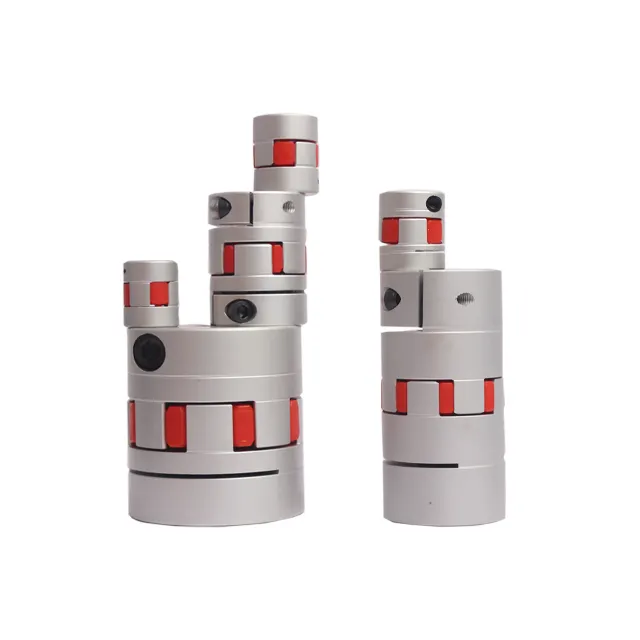 Maintenance Requirements for Jaw Couplings
Jaw couplings are relatively low-maintenance components, but regular inspections and preventive measures can help ensure their optimal performance and longevity. Here are the maintenance requirements for jaw couplings:
Visual Inspections: Regularly inspect the jaw coupling for signs of wear, damage, or misalignment. Look for cracks, chips, or deformation in the elastomeric spider, hubs, and other components.
Lubrication: Some jaw couplings require periodic lubrication of the elastomeric spider to prevent dry rot and ensure flexibility. Refer to the manufacturer's guidelines for the appropriate lubrication schedule and type.
Tighten Fasteners: Check and tighten all fasteners, including set screws, regularly to prevent coupling slippage and maintain a secure connection between the shafts and hubs.
Alignment: Ensure that the shafts connected by the jaw coupling are properly aligned. Excessive misalignment can lead to premature wear and failure of the elastomeric spider.
Replace Worn Parts: If any component of the jaw coupling shows signs of wear beyond acceptable limits, promptly replace it to avoid further damage and potential system failure.
Operating Conditions: Monitor the operating conditions of the machinery to prevent overheating or overloading, which can affect the performance and life of the coupling.
Following these maintenance practices can extend the life of the jaw coupling, reduce the risk of unexpected failures, and contribute to the overall reliability of the mechanical system.



editor by CX 2023-08-18